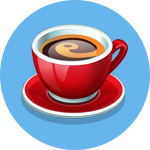 Americano is a type of drink served in the café. It is unlocked at level 3 and is prepared in the Americano Machine. Americano takes 30 seconds to be poured.
Americano Machine
[
]
The Americano Machine costs $300. There is no simplified version.
The Stylish version costs $19,000. See Equipment for more details.
Standard Recipes
[
]
There are currently 13 standard recipes. The last one is unlocked at level 31.
Recipe
Ingredients
& Equipment Grade
Level
Americano

Americano
3
Americano with Milk

Americano
Milk
3
Americano with Cinnamon

Americano
Milk
Cinnamon
4
Americano with Cream

Americano
Cinnamon
Whipped Cream
7
Americano with Lemon

Americano
Lemon ⭐⭐⭐
8
Chocolate Americano

Americano
Cinnamon
Chocolate Syrup
Chocolate Shavings ⭐
10
Bavarian Coffee

Americano
Chocolate Syrup
Lemon ⭐⭐
Chocolate Shavings ⭐⭐
10
Sweet Americano

Americano
Chocolate Syrup
Whipped Cream
Caramel Syrup ⭐⭐
Vanilla Syrup ⭐
12
Mint Americano

Americano
Milk
Mint ⭐
Vanilla Syrup ⭐
12
Honey Americano

Americano
Chocolate Syrup
Honey ⭐⭐⭐
18
Marshmallow Americano

Americano
Cinnamon
Caramel Syrup ⭐
Marshmallows
19
French Coffee

Americano
Grenadine Syrup
25
Summer Americano

Americano
Ice
Lemon
Cherries
27
Maple Americano

Americano
Milk
Whipped Cream
Maple Syrup
31
Special Recipes
[
]
There are currently 8 special recipes which use Americano.
White recipes use Anise and Rose Petals (simple gifts)
Pink recipes use Nutmeg and Star Anise (pink gifts)
Blue recipes use Galangal and Ginseng (blue gifts)
Gold recipes use Cardamom, Guarana, Saffron and Tapioca (gold gifts)
Recipe
Ingredients
Americano with Honey, Ginseng and Chocolate
+++
Americano
Chocolate Shavings
Honey
Ginseng
Americano with Lemon and Anise
++
Americano
Lemon
Anise
Americano with Nutmeg and Whipped Cream
++
Americano
Nutmeg
Whipped Cream
Americano with Saffron and Cardamom
++
Americano
Cardamom
Saffron
Bahraini Coffee with Rose, Cardamom and Saffron
+++
Americano
Rose Petals
Cardamom
Saffron
Galangal Americano
+
Americano
Galangal
Ginseng Americano
+
Americano
Ginseng
Vietnamese-Styled Iced Coffee with Tapioca
++++
Americano
Milk
Ice
Whipped Cream
Tapioca
Staff Skills
[
]
There are currently two skills related to Americano:
Americano Prices, which increases the price of each Americano drink.
Staff: Frank, Mary & Michael
Master Americano M.O., which speeds up the time it takes to make Americano.
Staff: Catherine, Forrest, Natalie & Rob
There are no staff member with both skills.
See Staff for more details.
Catalog
[
]