*Notice* -The following article contains spoilers
*Notice* -The following article is a work in progress and may contain errors and missing information. Please comment or edit to help us out.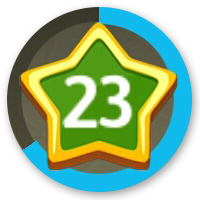 Levels are one of the key mechanics of the game. They let you unlock new equipment, recipes, customers, quests, stories, interior items, exterior items as well as some new features such as townships.
You change level by accumulating Prestige Points or stars. You get points by serving customers, fulfilling their requests during quests and stories, and by decorating your café.
Players start the game with $200, 10 diamonds and 10 Daily Bonus tickets.
Important note: some quests appear to be optional or not occur at the same level for everyone depending on what you have already bought, unlocked, etc.
Level 0
Level 1
Level 2
Level 3
Level 4
Level 5
Level 6
Level 7
Level 8
Level 9
Level 10
Level 11
Level 12
Level 13
Level 14
Level 15
Level 16
Level 17
Level 18
Level 19
Level 20
Level 21
Level 22
Level 23
Level 24
Level 25
Level 26
Level 27
Level 28
Level 29
Level 30
Level 31