*Notice* - This is NOT a place to advertise your Township. If you would like to do this action, please use the Discussions area.

Townships are groups of players. When you belong to a township you can complete township phone orders, compete against other townships in weekly festivals, and chat with fellow residents. Your township is represented by a 3D map where you can see your café, other residents' cafés, customers' houses, township buildings and the festival area.
Townships are unlocked at level 7.
Creating a Township
Townships can only be created by VIP players. Creating a township costs 50 gems. Township leaders can pick various settings: name, emblem, description, preferred language, minimum member level, type of township (open, on request only, on invitation only). Leaders also manage the township and its resources.
Townships initially have 10 member plots.
Joining a Township
To join a township simply tap on the map icon and pick a township from the list or from search results.
If you already are in a Township you have to leave it first to be able to look for a new one.
Prestige Township
Townships with one or more Elite Residents are called Prestige Townships. See Elite Resident for details about this feature.
Resident Management
Townships leaders can appoint other residents as assistants, and kick residents out of the township. Assistants get the same abilities but can not remove the leader, or manage assistants.
Township Orders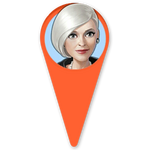 Township orders come from the café customers living in your township. Each resident gets a maximum of 3 township phone orders a day. They are very much like standard phone orders except they reward you with spices and rubies instead of spices and coins. They can also be harder to fill as they often request special recipes.
Once you have accepted one it does not go away unless you trash it or fulfill it. It will not be replaced by a new order if you do not. There is no penalty for trashing an order.
Township Structures
Township structures are café buildings which represent your café on the township map. You can choose between 6 styles: Manhattan, Golden Dragon, Northern Lights, Chester, Provence and Loft. Your café building does not have to match your interior style. You can also switch style at any time.
You can upgrade your township structure up to get additional tasks in Festivals:
Level 1: 30 rubies for 1 additional task
Level 2: 500 rubies for 2 additional tasks
Level 3: 5,000 rubies for 3 additional tasks
Level 4: 50,000 rubies for 4 additional tasks
Level 5: 150,000 rubies for 5 additional tasks
Upgrades are permanent but tied to a specific structure: they do not transfer from one structure to another. For example, if you pick the Manhattan structure and upgrade it to level 5 you will start over at level 1 if you switch to a different structure. However, if you switch back to your Manhattan structure later it will still be at level 5.
The number of rubies you can store depends on the size of your jewelry box, which costs diamonds to expand.
Township Festivals

See Festival.
Township festivals are events where townships compete against each other in groups of 6, in 7 different leagues. Doing so give the whole township rewards.
Township Buildings
There are 4 buildings in your township:
the Town Hall, with the township information and the list of residents
the Treasury, to transfer resources to the township vault
the Treasure Trove, to transfer resources to residents, and for Festivals
the Trophy Board to see global festival rankings
Township Resources
Township resources are used to either unlock a new resident slot on the map (up to a total of 20), or unlock a reward shelf in the Treasure Trove. Each requires a certain amount of trophies (earned during festivals), a certain amount of coins (donated by residents), and a certain amount diamonds (donated by residents).
Residents can make donations using the Treasury: coins and diamonds directly, or spices which are immediately converted into diamonds.
Only leaders and assistants can manage the township resources.
Donations cannot be given back and are tied to the township: if you leave the township, are kicked out of it or the township is dissolved you will not get anything back.
Township Plots
See Township Plots.
Township Shelves
See Township Shelves.
Videos
Community content is available under
CC-BY-SA
unless otherwise noted.